Today I am proud to introduce Minimate Factory's first guest writer, Punisher=D from Minimate Multiverse! He has written an excellent article on airbrushing, which is something I have not had a chance to experiment with. I would love to see more guest articles here, so if you would like to contribute, please contact me. With that said, I will hand the reigns over to Punisher:
Hey all, this is Punisher from MMMV talking about something that hasn't been talked about here! Today's article is all about airbrushing. I got my first airbrush Christmas of last year, and I will never look back. To start off, let's take a look at the brush itself, along with all of the other materials you will need to spray your minimate.
A basic airbrush, which can be bought at Micheal's Craft Store, or here (along with other hobby stores), comes in four distinct parts:
The Paint Sprayer
The Jar
The Paint Hose
The Air Hose, which you hook to the can of Air Propellant ( you can also buy this at Micheal's)
The name of the airbrush I use is the Model 250 by Badger Brand Airbrushes
Besides the Airbrush itself, you will also need the following when customizing your minimate:
Can of Air Propellant
Paint
A box or lid in which you spray your minimate (it should have walls at least three inches tall to protect what ever you are painting on from getting sprayed)
A coat hanger or strong wire
And of course, the minimate you intend to paint
Optional items include a stirrer if you are mixing paints, and paint thinner if the paint is too thick to shoot out of the airbrush
The second part of this article will show in step-by-step form, you just how to set up the airbrush and how to paint your minimate .
1. Squeeze (or pour) enough paint into the jar so that it fills about a little less than half. (If you are using more than one paint, split it up evenly between how many colors you are using so that you still end up with about half of the jar full)
2. If you used more than one paint, mix the paint by stirring until you form one color.
3. Screw the paint sprayer onto the jar, and screw the air hose to the end of the paint sprayer and the other end onto the can of Air Propellant.
4. Bend a wire coat hangler so you can do this: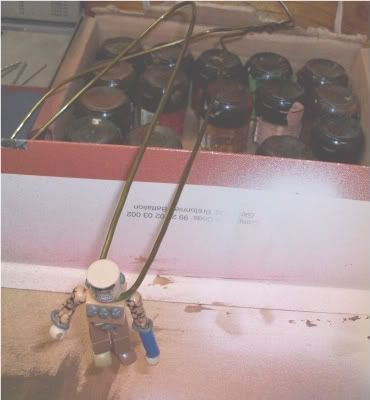 This will hold your minimate so you can paint almost all of it at the same time. Rest it on something that hoists it up without you having to hold it.
5. Turn on the air propellant by twisting the gold cap on top of the can down until you hear a almost "hissing" sound.
6. Now the airbrush is on, so aim it (about 5 inches away) at your minimate, and press the trigger on the spray gun.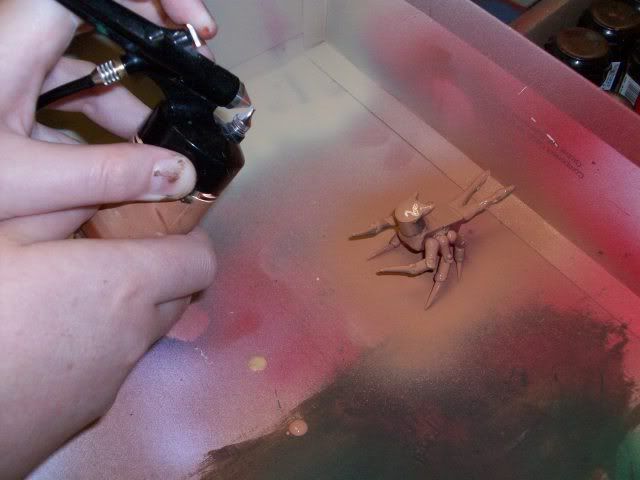 7. Voilà!! It sprays paint! Spray all around the minimate (dont get too close, or the paint will get blotchy) so you cover all the previous color.

8. Let the minimate dry before painting on the details. The jar comes off the sprayer and works as a regular paint jar (you can actually buy more jars at Micheal's, so you can keep prepped paint for the airbrush ready to go), so you can paint any parts of the minimate the airbrush did not reach.
9. Once the minimate is dry, you will have a blank colored minimate as smooth as a factory molded blank without having to paint on coat after coat (eliminated those ugly brush strokes too!).
10. Now you can paint on the details to finish your custom.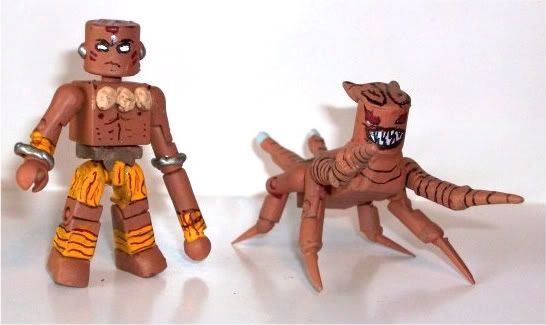 If you couldn't tell from the base figure, I created Dhalsim from Street Fighter and The Brood from X-Men Comics.
Now here's a few general tips and tricks to be sure to remember about the airbrushing hobby:
When you are done with your airbrush make sure to do two things:
1. Turn off the can of air (otherwise your air will deplete)
2. Wash out the jar of paint (if you don't plan on saving the paint) and the sprayer. The little silver piece is the most essential when washing because paint can dry and cause the airbrush to clog. The best way is to hold it up to your faucet, forcing the water to go through it, and then stick a straight pin (the one with the little color ball on the end, you know what I'm talking about!) through it to get rid of excess paint.
Depending on what kind of paint you use will warrant if you need to wear a mask or not. When I first started out with my airbrush, the paint caused a huge cloud, and I needed to wear a mask to prevent me basically breathing in spray paint.
Besides paint, buying the can of Air Propellant is basically all you have to worry about, expense wise, after you purchase your airbrush. Micheal's has a small can (10.99) and a large can (16.99) — the large can is shown in my pics above– for sale at their stores. The large one is obviously a better deal, but for an

even better

deal, I recently learned that the store sends out a flyer in the Sunday paper that includes a 40% (and sometimes 50%) off coupon on any item.
I use lower quality paints (like Ceramcoat and Apple Barrel that come in the 2 oz squeeze tube bottles) in my brush because I wasted almost half a jar of the better quality paints (Model Masters, Citadel, and Vallejo) per color I sprayed. These are also more convenient because you can squeeze out as much paint as you need, rather than pouring them out of the side of the jar (which leaves to paint dripping and running, and a huge mess!)
And that's it!  I want to say thanks to everyone who took time to read this, and thanks to Luke for allowing me to put out this article on his website. I hope I encouraged someone to think about purchasing one of these bad boys, you won't regret it!
Except, Luke is not allowed to have an airbrush, for if he does, if will be responsible for creating an unstoppable customizing monster who can not and will not be stopped at doing what he does best, making us minimate customizers look bad.
Thanks again!
Punisher=D